Terrazzo Flooring Makes a Comeback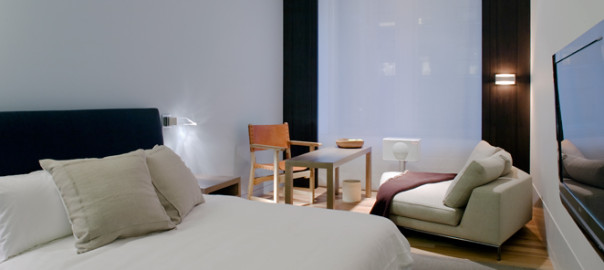 Terrazzo flooring was popular up through the mid 1970s when it all but disappeared. Today it's back and more resilient than ever. Substantial material modifications in recent years have given terrazzo interesting textures, increased durability, and improved compatibility with furniture and kitchen components. If you haven't considered terrazzo flooring in the past, now may be the time to take a closer look.
A little history
Terrazzo dates back to the 15th century, when Venetian marble workers started combining odd-sized marble pieces from paying jobs with clay. The end results were some interesting terraces and patios that were a bit rough and a little hard underfoot. Workers continued to experiment and discovered that the surfaces could be softened and made more inviting if they first rubbed the marble pieces with a stone.
The process involved in creating terrazzo flooring has evolved since then, and there are more than a few options to consider.
Terrazzo today
The modern process of terrazzo flooring has significantly evolved since the 15th century. Materials such as quartz, granite, and glass are used to create different effects.
Today we also use thinset terrazzo, which is a mix of epoxy resin and color chips. Thinset terrazzo is available in many color options and provides a long-lasting, impervious finish. As the name suggests, it is lightweight and relatively easy to install by pouring ¼ to 3/8 inch layer onto a slab. Once the surface is dry, we clean, polish and seal it. To help achieve a flawless shiny finish, we apply a grinder after the surface has dried, which also ensures that any holes are filled completely.
Thinset terrazzo will gradually peel and lose its color over time, so it is best used for office interiors rather than exteriors.
Precast terrazzo
Precast terrazzo is a "made to measure" terrazzo product that is available in a variety of finishes and colors. Precast terrazzo can be used in furniture, sinks, wall panels, and countertops. Precast terrazzo that is sealed will withstand spills and stains longer. Any spills should be cleaned up immediately for best preservation.
Terrazzo finishes
Terrazzo is available in three finishes:
Polished. This is a simple finish in which the surface of terrazzo is polished. The results are stunning, but the shiny finish can also increase chances of slippage.
Honed. If you need a matte or flat look, a honed finish is a good choice. Honed finishes have a relaxed, less formal look, with a slightly duller sheen than polished finishes. They're a good choice for outside applications such as patios and terraces.
Shot-blasted finishes. The shot blasted finish is achieved by blasting terrazzo under high pressure with small steel beads. To add extra protection against slippage while the surface is wet, the mortar top layer is removed so the stones become more prominent.
Other Terrazzo Applications
You might also consider terrazzo for fixtures and sinks. A word of caution: fixtures will need to be properly sealed in order to prevent water from penetrating the surface. This is a fairly simple process in which a solvent-based impregnator sealer is applied to the polished or honed terrazzo. Also consider checking with the manufacturer to determine if the right sealer has been used, especially for faucets and other fixtures that hold water.
If durability and longevity are primary concerns, terrazzo is a great material to consider. With a host of different finishes and additions available today, there's likely to be an application that will fit your needs.
---